Are you interested in earning an easy extra income? Who wouldn't be right, well the good news is; it can easily be achieved. If you have space on your driveway or perhaps an unused parking space or garage, you could have some valuable real estate right there. Using Place2Park is an easy way to connect your space with drivers looking for parking, and earn extra money each month renting out your space. Follow our step by step guide below to add your space and start earning an easy extra income with Place2Park.
Place2Park is UK's favourite Parking Marketplace for renting out your unused driveway, parking space or garage to earn money to fund your dreams, reduce your bills or even help motorists find a safe place to park.
How to Rent Out Your Parking Space
This might sound a little daunting, but… it really isn't! Setting up an account and listing your space with Place2Park is really simple, (driveway, parking space or garage) you can add your space for free in just a couple of minutes. This guide will outline everything needed to get your space live on our platform. Plus, (just to note) our team are always just a few clicks away to help or answer any questions you may have on listing your space for rent.
It's also worth mentioning that once you've setup your listing, that's that you can sit back and let the bookings come to you. We do all the hard work for you!
1) The basics -
Location, space features and more
Let your space be seen! Input the postcode of your parking space, into the specific section of our upload process this is then populated for you but if it's slightly out just click and drag the pin to exactly where your space is. If needed drivers will be given directions to your parking space which leads them to the exact location we have from your listing (so please make sure this is correct).
For the next part of our space upload process you'll need to select all or any features your space has from the list provided, and tell us what type of space you have along with any size restrictions there is for your space, followed by what access equipment is required for your space so that drivers are fully aware of these important factors before / when booking your parking space.
2) Getting your space listing ready for drivers
Bookings, availability and price
After the first step of our space upload process you'll have to set the availability for your parking space and let us know what type of booking you're wanting to receive whether that be; monthly and/or yearly bookings. Along with adding a listing description, a brief overview of your parking space to assist drivers in their understanding of its location, features and overall suitability. Followed by setting your monthly rental price for your parking space, keeping in mind your space listing could be competing with other nearby spaces also listed for rent, and price is a major factor for drivers when booking a place to park.
It's completely free to list your space with us there are no hidden fess at all. Place2Park simply adds on a 15% uplift to your listed price which is the price that appears on our platform as the total cost for drivers to pay for booking your space.
IMPORTANT NOTICE: Do not put any personal details in your space description as this information is made public.
3) Build the picture for your space
Add photos
A picture is worth a 1,000 words as they say, upload a photo of your space to increase the chances of receiving bookings. First impressions count so make sure the angles are good, the lighting is bright enough, and the photo quality is, well, quality. Drivers searching for parking favour listings with images as it gives them a great image of where they will be parking and leaving their vehicle. Ideally we'd recommend 1 – 2 photos to have your space stand out.
4) What you can expect once your space is listed:
- Your Place2Park Listing
After your space (or space's) is listed it will appear in our search results for users to be able to book from the date your space was added.
- Place2Park Hosting
We manage everything for you, and let you know when you get a booking.
Once your space has been booked, drivers are sent a Booking Confirmation, which includes your contact details for them to arrange the collection of any access equipment, along with if they need assistance in finding your space.
All of our drivers are registered so you'll know who's using your space at all times.
- Bookings and Earnings
We have a network of thousands of space providers earning thousands from their spaces.
When your space gets booked you will receive a booking confirmation email breaking down the customer's booking, including their contact details.
Now this is where we get to the fun part! There's no need to worry about cash - at Place2Park we use a cashless payment system. This means your earnings will go straight to your bank account. Payments will be processed to you on the last business day of each month.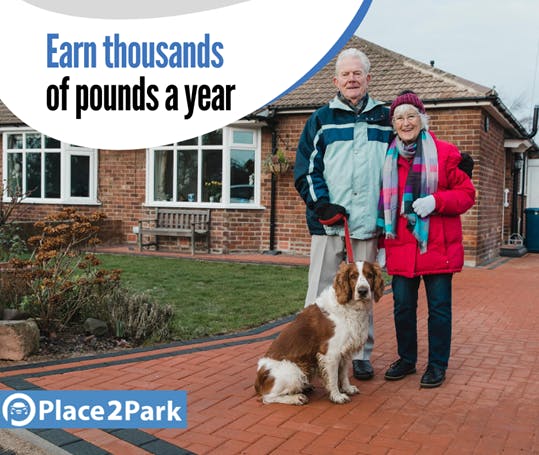 Start earning today
There you have it! A simple guide on how to list & rent your parking space with Place2Park. So, what are you waiting for? It's completely free and easy to setup and you could make a small fortune.
Thanks for reading
The Place2Park Team